Shuttle Services
Various shuttle services
---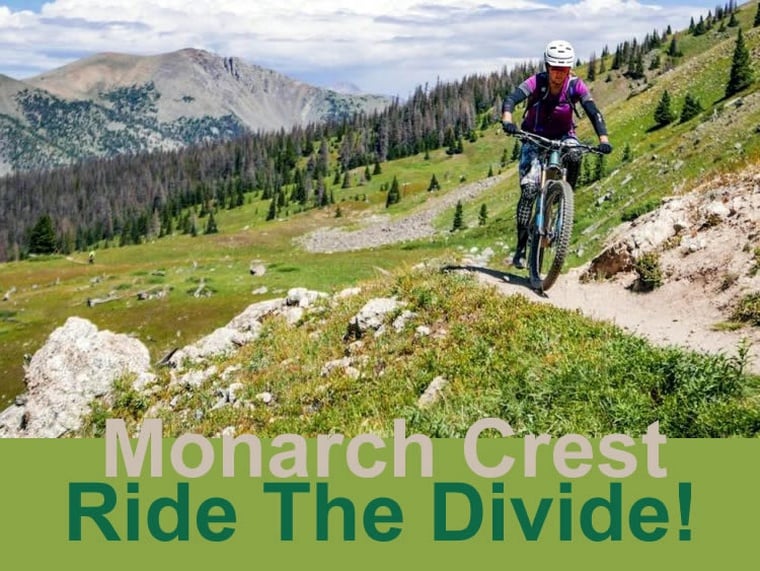 ---
Ride the Divide! This shuttle service will take you and your bike from Poncha Springs, CO, to the top of Monarch Pass. At that point, you will be at a starting elevation of 11,312 feet. The Monarch Crest Trail has a number of other names and is able to connect to a number of other trails with varying degrees of difficulty. Because of the distance and high elevation, this ride should only be considered for the most advanced riders.
The Monarch Crest can be considered an extreme coss-country ride, do not be fooled because it is a shuttled ride. Be prepared with snacks, plenty of water, along with all the tools needed to do self-service along the trail. Also be prepared for afternoon thunderstorms.
There are many variations of this ride. The "crest" is considered to be from the drop-off at Monarch Pass to Marshall Pass. This is eleven miles at or above 11,000 ft. The first few miles are the most consistent climbing of the whole ride, so don't get discouraged. There are some forks in the trail you need to be aware of.
After riding a dirt road the singletrack will kick off to the right. There is a sign-in box at this junction, feel free to sign in. This is a registry box for the Forest Service to monitor the use on the trail. After a short traverse you will come to another road with a power line over it. Go up and under the power line through an old burn area. Once the timber thickens you will see the trail off to the right marked with a sign. Once on the trail, it is unbroken until Marshall Pass.
Don't descent Fooses Creek, Green's Creek or Agate Creek unless you intend to, each is clearly marked. Once at Marshall Pass you will see bathrooms and some signage. From here continue to the summit of the pass where you will see signage for Silver Creek and the CDT. Once back on the CDT you will pedal about a mile, and then descend about a mile to a dirt road. Pedal another mile to the trailhead of Silver Creek on the left. This is a good place to wait for your group because it is possible to continue along the CDT, missing your turn.
If you do go too far you will see a red gate, which is the boundary for the Rio Grande National Forest… TURN AROUND!
Category:
Shuttle Services
---